[ad_1]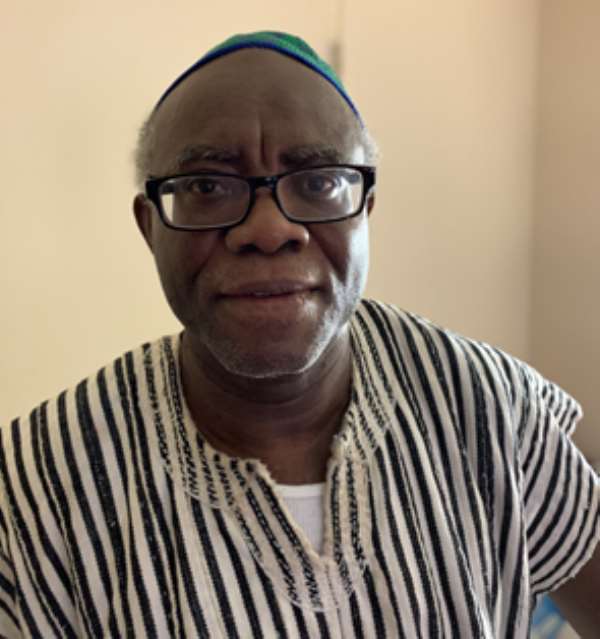 Listen to article
This was clearly a minor case of indecent gossip that ought not to have made the headline news. But for obvious reasons of increased Google.com hits, at least one major Ghanaian media portal chose to run with it. When it was posted / published, it was captioned "Kufuor, Addo Kufuor Slam NPP Woman for Peddling Falsehood about Them" (Ghanaweb.com 4/12/21). It was clearly not worth a direct response by perhaps the two most powerful octogenarian sibling political titans of Fourth-Republican Ghana. So, I strongly suspect that Esther Nana Agyemang, the woman who allegedly made such patently pedestrian claim, had a modicum of truth to her tale.
I mean, why would two almost twin political giants like former President John "Kofi Diawuo" Agyekum-Kufuor and Dr. Kwame Addo-Kufuor, the former Defense and Interior Minister in his brother's government, jump, almost spontaneously, to vehemently protest something as patently trivial and frivolous as something that is all too common and even natural of all human relationships, especially biological and familial kinships? Would the Kufuor siblings tell the rest of the adult world, political and civic, that absolutely no sibling rivalry has ever existed between them at any point in time? What kind of this perfectly unreal sibling and kinship relationship are these Oxbridge graduates trying to so mendaciously lay on us here? And just who is really getting fooled here?
You see, it would have been much better if these two Manhyia-fathered brothers had used on of their platoons of spokespersons to do their riposte for them. There is also something very funny about Mr. Agyekum-Kufuor and younger brother Dr. Addo-Kufuor so facilely presuming that tattle-tales like a determined Esther Nana Agyemang – by the way, I have absolutely no inkling who this character or person is – would simply sidle off into thin air, as it were, merely because two of the most powerful figures of Fourth Republican Ghanaian political culture have decided to go after her butts with a bulldozer, the way that an angry victim of a pesky mosquito would go after this teeny godforsaken critter and bloodsucking parasite with a sledgehammer.
To be certain, these two Kufuor Brothers have made their media slanderer an even more significant public figure and a major player in the ruling New Patriotic Party (NPP) than she really may be. Or, perhaps, this is one of those deliberately orchestrated political propaganda stunts aimed at allowing the famed retired political power duo to suavely and strategically reinsert themselves into the center of the internal politics of the party whose chances at governance "Medofo Adaa Daa Me" and his collaborators and assigns did so much for so long to sabotage? For his part, it is quite interesting because other than the brazenly nepotistic appointment of him by his Big Brother Kofi Agyekum as two-term Defense Minister, if memory serves yours truly accurately, there is not much by way of negativity, in informal mainstream American sociopolitical parlance, that can be said of this generally well-respected general medical practitioner.
I also don't buy this rather amusing ego-flattering notion that, somehow, Ghanaians need to be eternally grateful for their purported socioeconomic and political redemption from HELL by the dint of the nonesuch genius of the former Member of Parliament from Atwima-Nwabiagya in Ghana's Third Republic, who had also served as the Deputy Parliamentary Minority Leader of the Victor Owusu-led Popular-Front Party (PFP) and the democratically elected leadership of the Hilla "Babini" Limann-led and Kwame Nkrumah-inspired People's National Party (PNP). But we must also quickly point out, to the eternal credit of the "Black Chinese" leader for Gwolu, in the Sissala District of the Upper-West Region, that as substantive Executive-President of the Sovereign Democratic Republic of Ghana, Dr. Limann was a no-nonsense ideologically pragmatic statesman who had absolutely no stomach for faux-ideological personality cults such as the extremely poorly cooked and amateurishly packaged and decidedly ersatz copycat phenomenon called "Nkrumaism," a patently nontheory theory.
I also don't suppose for even a split-second that former President Kofi Diawuo Agyekum-John Kufuor "slammed any NPP Woman for peddling falsehood" about the veritable political opportunist who served as Local Government Secretary in the bloody junta of the late Chairman Jerry John Rawlings. What Mr. Agyekum-John Kufuor actually ended up doing was affirming his assessment by those of us avid scholars and students of Fourth Republican Ghanaian political culture that this otherwise fairly well-accomplished politician lacks the sort of gravitas and sense of seriousness that is the globally recognized hallmark of many an above-board former President or leader of any major global sovereign national player like Ghana.
Which also brings yours truly back to that witheringly embarrassing moment, when the then Candidate John Agyekum-Kufuor, John Kufuor by the British media, turned smugly and exuberantly to a visiting Prince Charles and goofily gushed that "By your next visit to Ghana, I will be the President," to which a deeply offended Prince Charles pointed to the overflowing crowd of spectators and disdainfully replied "Turn to your own people and tell them what you just told me." The subtext here, of course, being "You are no peer or classmate of mine, John Kufuor."
*Visit my blog at: KwameOkoampaAhoofeJr
By Kwame Okoampa-Ahoofe, Jr., PhD
English Department, SUNY-Nassau
Garden City, New York
April 13, 2021
E-Mail: [email protected]
[ad_2]